It is not surprising that at some point you have asked yourself: "What is Electronic Document Management (EDM)? When we talk about Electronic Document Management we refer to the centralized management of a company's documents through digital means, replacing the analogous processes with which certain management activities were normally developed. 
Understanding each stage of EDM can help us get the most out of the entire system. To this end, Alcero offers you a service based on INTEGRATED AND ELECTRONIC DOCUMENT MANAGEMENT, through platforms such as Office 365 and SharePoint.
To better understand it, in the following lines we will introduce you to some of the most important functions and details you should know. 
Let's get started. 
What is an Electronic Document Management System?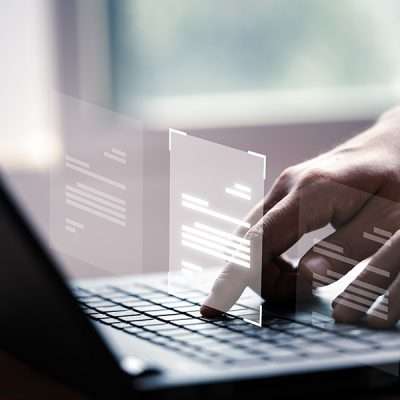 What is the meaning of EDMS? EDMS, Electronic Document Management Systems, are software programs that are responsible for organizing, centralizing and storing a series of files and documents of a company and organization. 
They have become an exceptional tool for various organizational systems, since they allow immediate accessibility to the information we need, regardless of our location. It is a way to access documents in an easy, practical and efficient way. 
The exchange of files internally and externally is streamlined, which minimizes the loss of valuable time that could well be used in the development of other activities and would also result in a significant saving of resources. 
You may also be interested in: What is a document management system?
Benefits of an Electronic Document Management System
As a result of a better management of an organization's documents, EDM offers as a main benefit to control and improve the workflow, thanks to the fact that these EDMS softwares are usually intuitive and easy to handle.    
In summary, then, centralized documentation management allows us to: 
Reduction of human errors

related to document search and storage.  

The possibility of

making several copies of a document

or a group of documents. 

To favor the

internal and external

intercommunication

of a specific company.

Seamlessly track, manage and use the

organization'

s digital documents. 

The

development of transparent and secure processes

, which, in addition to increasing the efficiency of its collaborators and processes, reduces the economic investment in terms of storage. 
You may also be interested in: Advantages of the electronic document management system
Electronic Document Management Features
Some of the main features related to Electronic Document Management are presented below:
Safety
Ensuring the security of a company's documentation is one of the features offered by EDMSs, when they are part of a general information system. This is necessary given that confidential information, personal data and management plans are handled inside the company's coffers and must be treated with care.
Control and follow-up
A good EDMS has the ability to save different versions of the same file. This allows users to view previous versions of a document, and also ensures that the information remains secure. 
You can also use an EDMS with version control, so that everyone in your organization can track changes and review previous versions of the same document.
You may also be interested in: INTRANET, EXTRANET AND GROUPWARE
Recovery
The concept of retrieval is relatively straightforward, but the details of how to retrieve documents can vary widely. In some systems, retrieval is as simple as specifying the unique document identifier. 
However, there are many other retrieval methods, such as non-indexed queries and a basic index. In general, document retrieval requires users to specify at least a portion of the expected metadata and a document identifier, and then return a list of documents containing that information.
Metadata
The use of metadata for electronic documents can significantly improve efficiency and workflow. Well-used metadata can even group related documents together to facilitate collaboration and sharing. 
Whether you are looking for a particular type of document or a particular type of information, metadata can help. It opens up the possibility of adding data that facilitates search and management such as dates, status, categories and other information that allows us to create a context for each one. 
You may also be interested in: The Top 5 Document Management Issues and How to Address Them
Who should manage your EDMS?
Electronic Document Management requires effective and efficient handling. For this, when you choose to collaborate with a third party, they must be able to build and configure simplified systems that allow you to establish simple solutions to your organization's needs, that is, just as we do at Alcero. 
Documentary logical architecture;

Classification plan;

Retention schedule;

Metadata structure and plan;

Documentary process control;

Development of library services: input and output management, version management, audit, history, security, access control, and more
Therefore, if you are looking for an expert service in development, implementation and deployment through platforms such as Office 365 and SharePoint, contact us. Call us through the number 514 316-5064 or the email us address [email protected]